on Sat Apr 27, 2019 10:35 am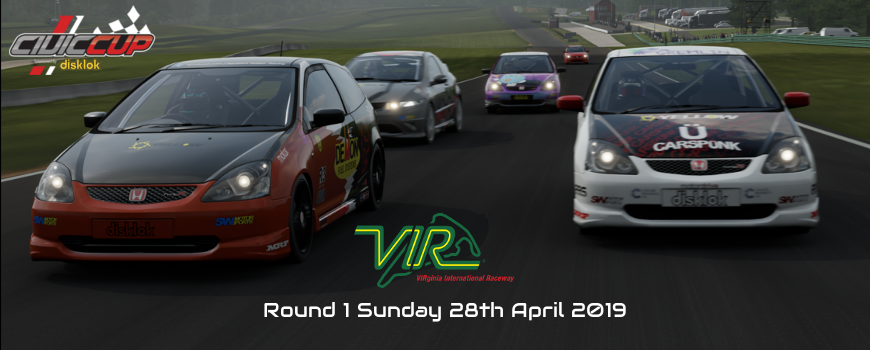 Hello race fans! We are just 1 day away from the start of the FPLR Civic Cup series and you can just feel the excitement all over the Virginia hills. Fans have already started filing into the track and claimed their spots to watch the race. The drivers have had months to prepare and soon the green flag will drop on these 4 wheeled Japanese icons.
I'm Thomas Griffin Jr. and I will be covering this series from start to finish, green flag to checkered, track to track...doing my best to give you interviews and reactions from the drivers as they fight their way to the last race of the season for the championship gold.
This season has seen a plethora of drivers from many different nations and many different nationalities sign up for this series. The talent will be diverse and the racing is predicted to be intense. I took a moment yesterday to walk up and down the Pit Lane on the VIR South circuit while the cars were going through one of their practice sessions and was able to get comments from a couple of drivers. And since this is the first race of the season, I kept it simple and had only one question for them:
'Can you introduce yourself and your team and tell us why you joined this Civic Cup series?'
____________________________________________
Stevie Epicsabotage Boss : "The first race of the Civic Cup will be very interesting racing against great drivers, some of who I have raced against before in other series. The reason why I have entered in this series is to go against great drivers from around the world. I want to show my driving skills to everyone. My team is Ogxgaming/ Monster Energy. Ogxgaming is a small based group based in Australia. We race in many different series and I saw the opportunity to race in the Civic Cup for my group to show that us Australian drivers can race. I am looking forward to series and can't wait!"
Will Johnson : "Our team Hi-Point Motorsport has enjoyed a few of the FPLR events. With a lot of time spent over in the UK racing. We've definitely gained ground on being top contenders. We are very small, but so is dynamite lol. With the Civic Cup, I feel the lower class will give us a chance to really fill out the tracks and car as well. Hey and who doesn't like prizes!"
Chris Beard : "Myself (Daddystig71) and PrefectPringle have entered as Team FFRC. This is to try and raise awareness for The Friends of Felines Rescue Centre in Ohio who this year are celebrating their 20th anniversary. Unlike here in the UK, cats that have an condition known as CH are given a chance to have a loving home and FFRC have some lovely cats with CH who also live there like Ramsay (who is my co driver). To find out more about FFRC, please have a look at
www.fofrescue.org.
Garry Roberts : "I'm Rampant Robbo, owner and driver at R3 (Rampant Robbo Racing). I've been racing for many years since forza 4 with several different organisations as an independent driver but started R3 in the past 18 months. I raced last year with the guys at FPLR in the Classic Touring Car Series and found it really good in both the way they run there events and the competition between the driver. The racing is always clean and close and that's what kept them on my radar as an organisation I'd race with should the opportunity arise again. Once I was made aware of the Civic Cup being ran by FPLR, I was onboard straight away, knowing how they run there events and the standards of the other drivers it was an easy decision to make. Apart from that, the fact that the Championship is planning to run alongside the Official Disclock Security Civic Cup series added an extra bit of flair to the proceedings. We've just had media day and the number of competitors that showed up was a little disappointing considering the number of drivers registered to race in the series but I'm sure come race 1 the grid will be busy. Hopes for this series are to be consistent with top 10 results and keep out of trouble and score in each race. Sone of the other drivers I've raced with previously and Jim aware of there speed and style of driving, that being said there are many of others that are complety unknown to me so I will be trying to watch and learn how theh operate both on and off track. All in all R3 is ready to go for the Civic Cup Series and the EP3 Type R has been putting in some good times during testing but as we all know racing is a totally different scenario."
Katashi Umikoa : "Well we here at Constant Motion Racing are always pushing ourselves to be better at our racecraft. I've raced in many different leagues and series with every type of car from Australian V8 Supercars to Formula 1 an Indy cars. I found my home in GT3 and GT4 spec race cars and even dabbled in a LMP2 class in which I was very successful. But if there's one thing that I always struggled in it was in cars that were outside of my expertise. And front-wheel drive cars are a little bit of an Achilles Heel for me. LOL
So when I heard that the Forza Pro League Racing guys were organizing a Civic cup event, I was in it from the get-go. I've raced with these guys on many different occasions and was somewhat successful in a few... so I'm hoping that some of the talent and lessons that I've learned in how to drive a car better will radiate into this series.
So just keep your eyes open for the
#40
Hellsing Ultimate 2005 Honda Civic!"
Gareth Cares : "I'm just a single driver, no team has such. I've been a keen follower of the Civic Cup series since owning and modifying my own EP3. Also an avid fan of gaming, so I thought this would be a great thing to be a part of."
____________________________________________
'With a plethora of drivers that have yet to offer me comments, I'll be sure to get in touch with them as soon as possible so that I could share them all with you at a later time. Until then, this is Thomas Griffin Jr, reporting on behalf of Forza Pro League Racing, wishing you all a good day and we look forward to seeing you on race day!'

Permissions in this forum:
You
cannot
reply to topics in this forum